News from Dublin
Not only improving our English skills but also gaining different life experiences brought us to take part in the Erasmus+ project, which we will definitely not regret.
We are currently working as interns for High Schools International, which is a company that organizes exchange programs for Ireland and United Kingdom, based in the city center of Dublin. Our working hours are from 9 a.m. to 5 p.m. and during lunch break from 1 p.m. to 2 p.m. we are usually going to a restaurant near our workplace. We have one supervisor who gives us all tasks, but it is an open plan office which means that we sometimes get responsibilities from other colleagues. Our main task is taking care of all social media platforms as well as creating new posts with our own ideas and advertising to acquire new host families. Furthermore, we had to clean up the archive and complete many envelopes to be able to send them to the host families.
Also, we are quite lucky as we have good directions with a bus that takes us to HSI in about 45 minutes. Therefore, we have plenty of time to stroll around the city, go shopping and do sightseeing. Although we have already visited many special places in Dublin, we really look forward to seeing many more spots!
All in all, we are very grateful to have got this opportunity and happy to get this experience of living and working in new circumstances!
Our Internship in Dublin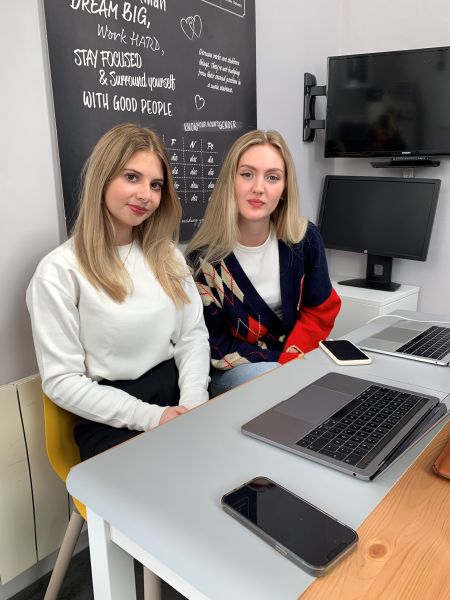 As we both shared the same amount of excitement about working in Dublin for two weeks, we were very lucky to be working together at GermanMind. GermanMind is a German language school, based in Dublin. Our tasks vary from social media management to designing new calendars, making short videos as well as writing Blog posts. Usually, our work starts at 10.30 a.m. and finishes at 4 p.m. Even though we both don't travel that far to work, we have the opportunity to work from home twice a week. On those days, we usually meet up in a café, where we complete our tasks together.
Therefore, there's plenty of time for us to stroll around the city and get to know Dublin even better. Even though we've already visited many monuments and pubs, we can't wait to explore the city even further.
Overall, we're very grateful to have got this opportunity and happy to improve our English skills as well as develop an independent working mindset.
Laura and Selina
Karina Cucuruz @ Jam Art Factory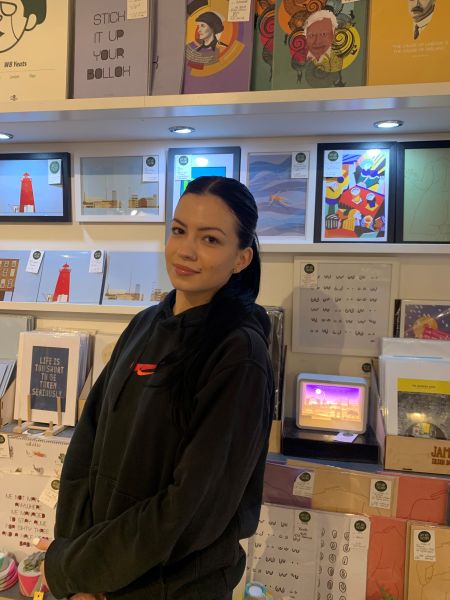 I work in retail in a small shop called Jam Art Factory. The shop sells prints, posters, gift cards, candles and necklaces all designed by irish artists. My supervisor and coworkers have all been very friendly since day one and this makes my job even more enjoyable. I can luckliy say that I can practice my English skills all the time here because everyone is very talkative.

My tasks are putting prints in order and also counting them, stamping bags and frames with the shop's logo, bringing materials to the shop such as envelopes and bags from the shop's atelier and also coming up with ideas for new gift boxes. I can also take a break whenever I want and the whole team is very flexible.

Getting to work has to be the most challenging part about my trip because I have to take three buses to get there since I live outside of the city (in Swords). With all the traffic in Dublin, It takes me about an hour to get to the city with the first bus. Afterwards, It takes me about 30 minutes to actually get to work with the next two buses.

I luckily only work from 10 am until 4:30 pm, which means that after work I can meet up with my friends and go have dinner or visit an interesting sight.
Christopher Binder and Michael Ehrengruber @ JobContax Recruitment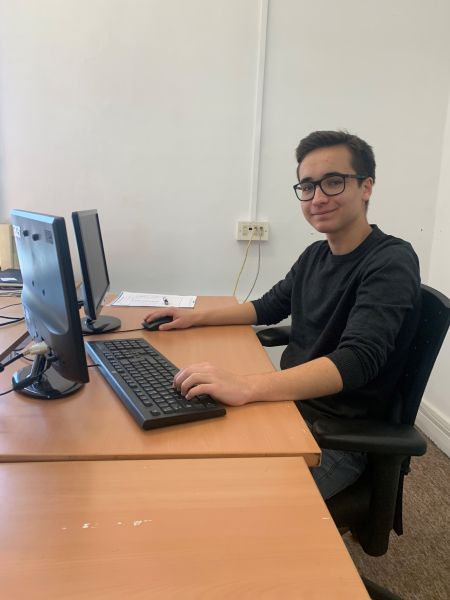 Currently we are conducting an internship for JobContax Recruitment, which is situated in the city of Dublin. It´s the company´s mission to provide personnel, experienced in the field of engineering, to other enterprises, which need temporary employees for a specific construction project. Therefore, having a clear, up to date, database of potential workers is essential. Our job consists of synchronizing the data of our company intern database to the engineer´s LinkedIn profiles. Concerning our working hours, we can be flexible, but we are usually working from 10:00 to 17:00.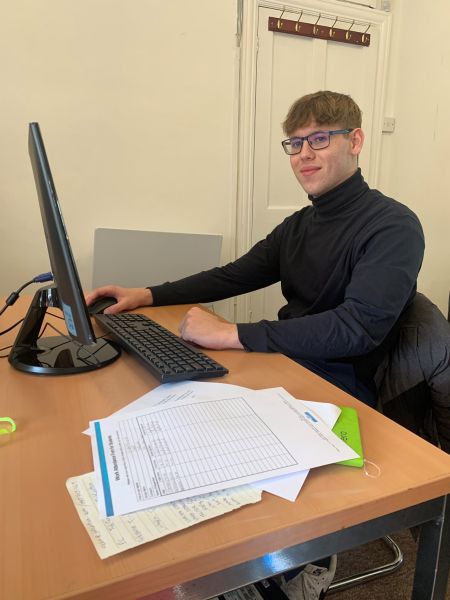 After work we meet up with our friends and head for a drink in a pub or visit some cool new places. There´s also time to go on a trip during the weekends and experience more of Ireland´s culture and countryside, which is beautiful!
If you´re ever getting the chance to do an internship in another country, we would strongly recommend you to capture this opportunity. It´s an experience you will never forget!
Alessandra Schwabe und Anna Hurch @Flynn & O'Donnell Solicitors
We work at Flynn & O'Donnell Solicitors which is a company specialised in legal costs. The company is located near Trinity College and therefore easy to reach by bus or by tram. We work in a small office and our working times are from 10.00a.m to 4.00p.m.
We usually start our day with working on cases and taking phone calls. At work we get in touch
with actual cases and learn how to use "lawyer language ". Apart from working in the office, our boss takes us to places such as the Four Courts and the Criminal Court of Justice. We get to watch hearings and learn more about the Irish legal system.
The both of us are very pleased with our work placement and enjoy every second of our workday. Our boss Shane O'Donnell and his assistant Tanya Noonan are very welcoming people and try to teach as much as they can about their job.
In our free time we get to explore the city and experience Irish culture. We spend our evenings either with our host families or in town with our friends.
All in all, the Erasmus+ programme is an amazing experience and we are so glad that we participated.