Philipp @ Empire Estate
During the exchange program in London I am working at a well-known real estate agency called "Empire Estates". The company is located only 15 minutes from the heart of the city centre away.

My daily tasks are writing letters and emails, searching in the net for suitable properties and handing out leaflets to potential customers.
The employees always want to pick the best for the costumers and are always friendly. As in every real estate's company, the clothing regulations are very strict.

Through the internship I have got a good insight in the everyday life of a British company and additionally to that, I have expanded my English skills.
Philipp Geßl
century21 London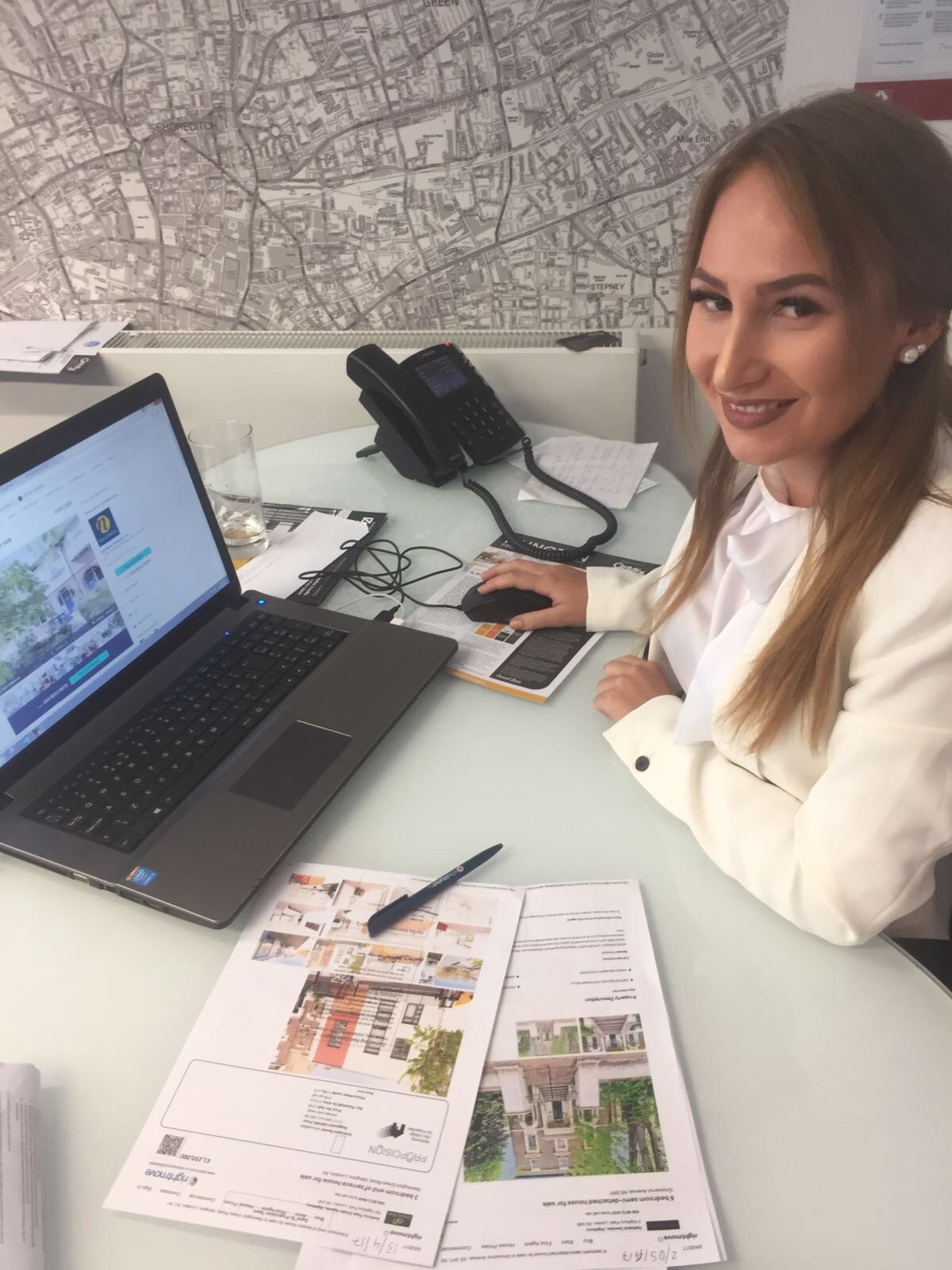 During my time in London, I am gaining work experience at Century 21 United Kingdom.
Century 21 is a real estate company located in the beautiful streets of Islington.
My main task is to find out potential properties which are currently on the market with other agents. In the next step, I have to find out the correct addresses using google streetview, so we can send out canvass letters in the hope of procuring their business.  Further, I have to enter the customer's details and the property's information into a database which helps to find the perfect property for each client. Other duties include answering the telephone, taking the client's name and number or connecting the calls to my colleagues.
During my lunch break, I always walk through the lovely market selling delicious food from around the world, which is just around the corner.
This short internship has helped me a lot in regard to practising my English and business administration skills. I enjoyed my time at Century 21 immensely.
Bruno at Mayfords estate agents
I am working for the estate agency "Mayfords estate agents" which is located in Harrow, selling and managing properties in London. Working in an estate agency means always finding the right balance between customer and landlord satisfaction. Thus, all the employees are most polite and respectful when it comes to interactions between these parties and the estate agency. The company also puts high value into being professional and also looking like that which means they have a pretty strict dress code.
As "Mayfords" is not only selling or offering properties to rent but also managing these properties one has got a lot of contact to tenants if there occurred any problem with the property or if there are some changes in the tendency. My task is to keep everything organised to enable this interaction. So, I have already proved folders whether all the documents are there and if they are there I need to prove their validity. Further I have done a part of the accounting of some flats and blocks and sorted some files.

Bruno Brodik
Our students in a recruitment agency (report from London)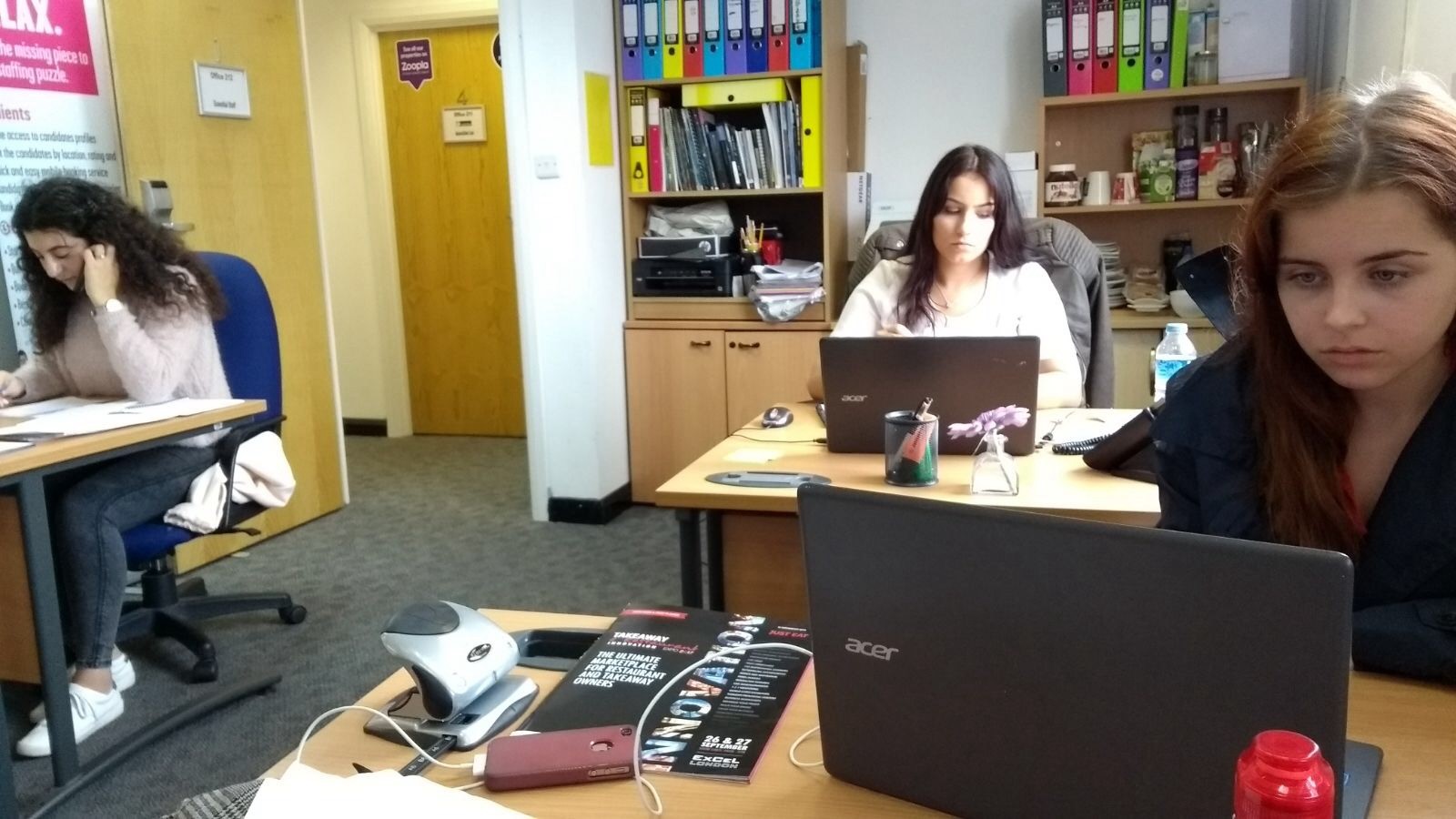 We (Lea, Lisa & Irem) work for Essential Staff Ltd., a recruitment agency specialized in the restaurant and catering industry.
Our main task is to help restaurants and hotels filling positions with professional staff.
That basically means that we, for example, get an enquiry from a restaurant that wants us to find a restaurant manager or any other staff members that are necessary for running a restaurant.
As soon as we receive this enquiry we have to start searching for possible candidates. Therefore, we check different CVs on plattforms such as Caterer, Linkedin, etc. and call candidates who would fit in the free Position.
During this phonecall we try to agree upon a date for an interview.
During such an interview they should register with our plattform and give us a first impression about them. After the interview we, then, call our client (the restaurant) and agree upon a date for a job interview between the client and the candidate.
Lisa, Lea & Irem
Network and Business administration at Hab&Kal Properties
During my placement at Hab&Kal Properties I am assisting the management with their technical problems. I set up the company's network so they are able to share files with the use of an FTP server. Due to the fact that the FTP server is working perfectly, I was able to connect the printer and the scanner, so now, in case they need to print something, they can also do so from home. So, let's say they have to print out rent contracts, which are quite long, they can do so from home and save tons of money.
Whenever my colleagues are occupied, I am accepting calls and taking notes regarding what they need assistance with, so my colleagues can call them back and assist them with their inquiries.
Fabian F. (5BK)
Erasmus PIE Project 2017
Sep 3, 2017:

On Sunday, at the crack of dawn and in pouring rain, this year's HAK Auhof Erasmus PIE Project participants set off for London, unfazed by the early hour and the downpour - presumably when the rest of the HAK Auhof student population was still fast asleep and enjoying their last few lazy mornings before the start of the school year.
Not so our Erasmus group. Our flight left at 6:05am for London via Frankfurt.
20 students from this year's graduating classes 5AK, 5BK, 5CK and 3AL are spending the next two weeks in London working in various local companies and honing their Business Administration and English language skills.

In case you were wondering: "PIE" stands for "Praktikum in England".
What better preparation for the world of work (AND the RDP exam!) can you think of that also allows you to spend two weeks in one of the world's top cities??
2017 HAK Auhof Erasmus PIE Project group.
Stay tuned for updates.
Ms Stekl (live from London)
Verleihung der FIRI-Zertifikate
Auch heuer fand die FIRI-Zertifikatsverleihung wieder in einem feierlichen Rahmen auf dem Schiff "Anton Bruckner" statt. Viele Maturanten stellten sich zwischen der schriftlichen und mündlichen Matura auch der externen Prüfung aus Finanz- und Risikomanagement.
Die Sparte Bank und Versicherung der WKOÖ, vertreten durch den Spartengeschäftsführer Dr. Friedrich Filzmoser (rechts im Bild), belohnte die erfolgreichen Schüler/innen und lud zu einer Donaurundfahrt inkl. Buffet ein.
Herzliche Gratulation den stolzen FIRI-Zertifikats-Besitzern und ein großes Dankeschön an die Wirtschaftskammer für diesen wunderschönen Event.
Gratulation zur bestandenen Matura
"Dass tolle sportliche und schulische Erfolge durchaus vereinbar sind, bewiesen und uns wieder einmal vier Maturanten der heurigen 5 BK.
Daniel Wittek, Anika Wakolbinger, Andrea Dumfart und Paul Mairinger (v.l.n.r.) erreichten nicht nur den ersten Platz des "Asics Staffelmarathon - Schule läuft" (16. Oberbank Linz Donau Marathon), sondern schafften auch die Matura mit wirklich guten Ergebnissen.
Wir gratulieren dazu recht herzlich.
1DK - Workshop "Kinderarbeit"
Am Dienstag, den 30. Mai 2017, besuchte die 1 DK den Workshop "Kinderarbeit - Ja, bitte?".
Dabei wurde zuerst auf das schreckliche Schicksal vieler Kinder hingewiesen. Dann bildeten die Schüler/innen Gruppen und durften selbst zu spezifischen Themen recherchieren. Zu den Bereichen "Gründe der Kinderarbeit", "Kindersoldaten", "Kindersklaven im 21. Jahrhundert" und "Sexuelle Ausbeutung von Kindern" wurde dafür u.a. Filmmaterial  zur Verfügung gestellt.
Zum Abschluss durften alle ihre Ergebnisse auch präsentieren. Wir danken der Arbeiterkammer für diesen sehr informativen und interessanten Workshop.
Die erfolgreiche Praxiskooperation mit Linzer Steuerberatern geht in das achte Jahr!
Seit vielen Jahren läuft eine sehr erfolgreiche Kooperation zwischen der Kammer der Wirtschaftstreuhänder und der HAK Auhof. Die Schülerinnen und Schüler des Ausbildungsschwerpunktes Bilanzierung und Controlling erhalten die einmalige Möglichkeit, begleitend zum Unterricht in der Schule Praxiserfahrung in einer Steuerberatungskanzlei zu sammeln.
Im dritten Jahrgang wird den teilnehmenden Schülerinnen und Schülern in Zusammenarbeit mit der Kammer der Wirtschaftstreuhänder OÖ ein Praxispartner vermittelt, der über zwei Jahre hinweg die Schülerin/den Schüler begleitet und so mithilft, an Praxistagen sowie in zwei Ferialpraktika die schulische Ausbildung um praktische Erfahrungen zu ergänzen. Bereits zum achten Mal wurden unsere "Neuen" (Carmen Fink, Julia Frischauf, Vanessa Hanak, Stefanie Kosmata, Thomas Pammer, Thomas Sonnleitner,) und ihre Praxispartner herzlich willkommen geheißen und die Partnerverträge unterfertigt.

Wir wünschen Ihnen 80 interessante und spannende Tage in ihren Partnerunternehmen und dass ihr erlerntes Wissen auch wirklich in der Praxis anwenden können.
Gleichzeitig wurden zum sechsten Mal feierlich die Zertifikate an unsere Maturantinnen (Andrea Dumfart und Cornelia Oniga) überreicht. Diese Zertifikate bescheinigen den teilnehmenden Schülerinnen und Schülern, dass sie neben der Ausbildung in der Schule auch rund 80 Tage in einer Steuerberatungskanzlei ihr Wissen anwenden und erweitern konnten.

Wir gratulieren unseren Absolventinnen und Absolventen sehr herzlich und wünschen ihnen für ihre Zukunft alles Gute und viel Erfolg!
Um für diesen wichtigen Anlass einen würdigen Rahmen zu schaffen, trafen sich auf Einladung der Kammer die Partnerkanzleien mit den Schülerinnen und Schülern sowie deren Eltern am 17. Mai 2017 im Stadtbräu Josef. Nach dem festlichen Teil nutzten alle bei einem gemütlichen Abendessen die Möglichkeit, die guten Beziehungen zwischen Schülern, Eltern, Lehrern und Steuerberatern in bester Stimmung zu pflegen.