Sales Challenge 2019
Eine Gruppe von Schülerinnen und Schüler der 5. Klassen nahm am Freitag, 20.09.2019, an der Sales Challenge 2019 teil. Ein Event, veranstaltet und organisiert von der Voestalpine GmbH in Kooperation mit den Handelsakademien Oberösterreichs.
Erfolgreich stellte sich unsere Gruppe mit dem Namen "Sell Outs" den herausfordernden, aber auch spaßigen Aufgaben und meisterte jede der kniffligen Aufgaben mit Bravour.

Einen ganzen Tag lang kämpften insgesamt 12 oberösterreichische Handelsakademien um das heißbegehrte Preisgeld, knüpften neue Kontakte und lernten viel über die Bedeutung von Teamwork und richtiger Kommunikation in der heutigen Arbeitswelt.

Ein erfolgreicher Tag ging sehr schnell zu Ende und alle Teilnehmer waren begeistert vom Ablauf der Veranstaltung.

Jugend und Beruf
Auch heuer findet wieder die größte Messe Österreichs für Bildung und Beruf vom 2. - 5. Oktober in Wels statt.
Die BHAK Linz-Auhof ist wieder auf dem Stand der Handelsakademien Oberösterreichs vertreten.
[ jugend und beruf ]
Podiumsdiskussion JKU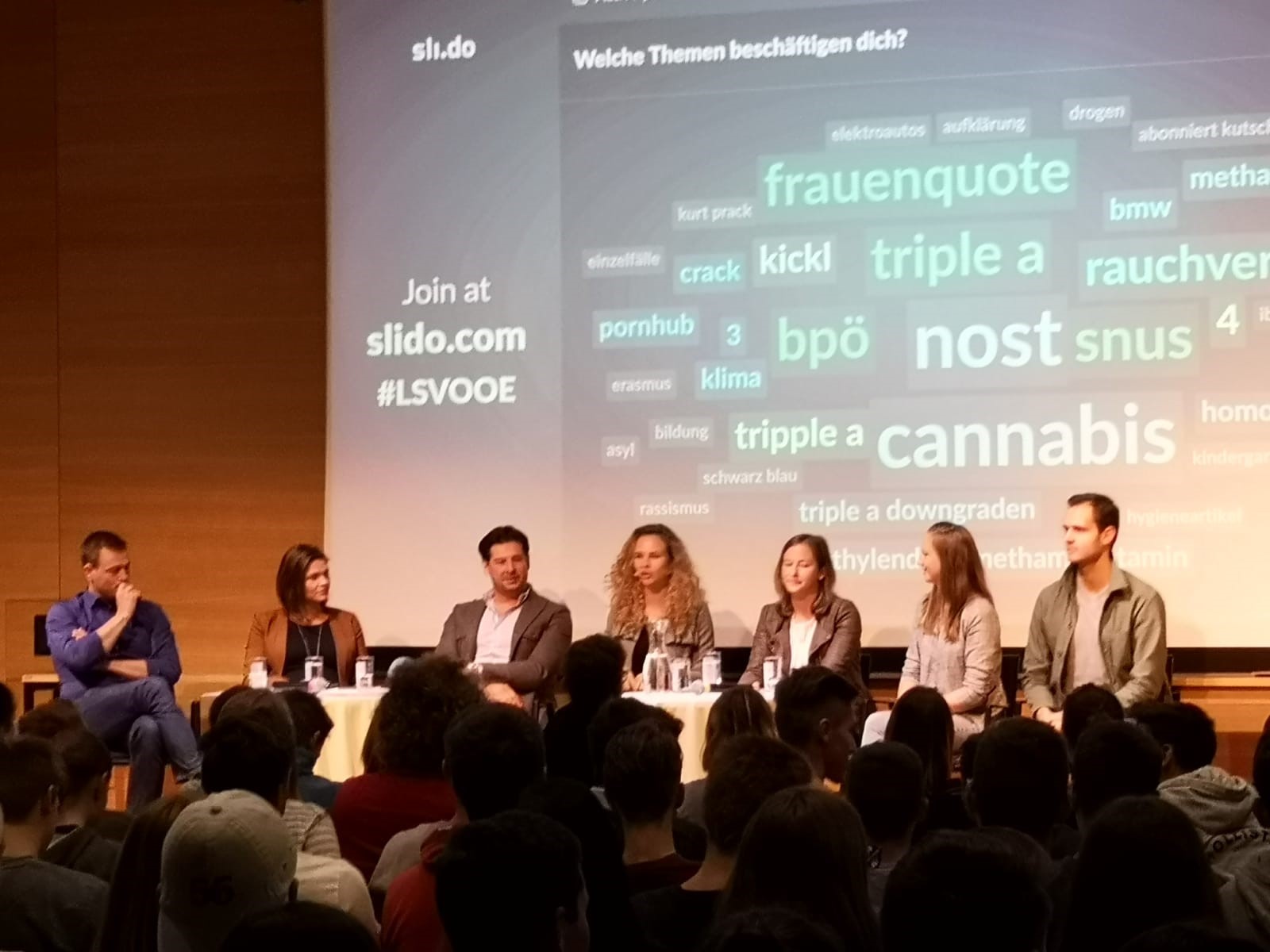 Am Montag, 23. September 2019, durften wir, die 4AK und 4BK, bei der Podiumsdiskussion in der JKU dabei sein und die verschiedenen Meinungen zu den Themen wie Bildung, Migration und Umwelt der SPÖ, ÖVP, FPÖ, NEOS, GRÜNEN und der Liste JETZT anhören. Es war eine sehr interessante Veranstaltung und danken der LSV Oberösterreich, die diese Podiumsdiskussion erst möglich gemacht hat.
Final News from London 2019
Obviously, the Erasmus project is not only work. There is also time for sightseeing, shopping and socializing, both after work and on the weekend.
(c) BHAK Linz-Auhof
IT WAS GREAT! Thank you very much...
Nicole Reyes @ Vesper Homes
My work placement at Vesper Groups, a real-estate company located directely in the heart of London, in front of the popular Hyde Park, was an experience that I will never forget in my life.

My boss James and my collegues Holly and Melissa were welcoming and so helpful when it came to explaining my tasks to me and patiently answered all my questions. I was assigned to do a marketing project for the two weeks I would work for them, and basically had to manage and promote every social media account, which included designing and creating e.g. flyers and taking pictures for the profiles.

To my surprise, the team at Vesper Group actually trusted me and my skills and gave me work that was as challenging as it was fun! James and I always went for lunch together, and he sometimes would even take me to busniess meetings or show me around in London and his favourite sights.
Going to London was an amazing experience, it was so interesting to see yourself, your language skills and cotacts develop that greatly over such a short period of time.

***NEWS FROM LONDON***
At 8:30 a.m. on September 1st, this year's nine Erasmus project students left Austria for their work placement in London. After an early start at the Linz train station, we took the train to Vienna airport. As we safely arrived in London at around 3 p.m., a driver picked us up and took us to ADC College in Harrow (North London) where our host families had already been waiting for us with big anticipation.

Look out for more updates from London on this website!

Nikolina Miljus @ The Legal Practice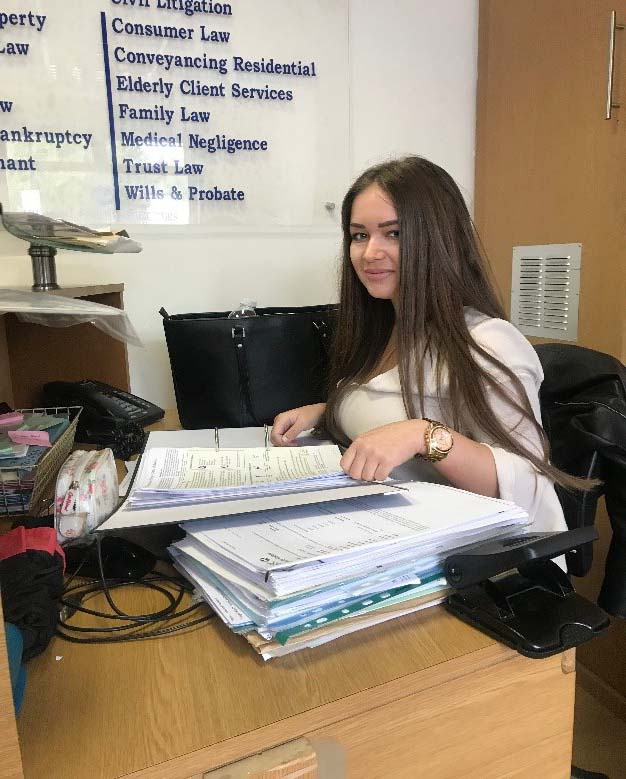 Working abroad is a great opportunity to see how business works in other countries. I work at The Legal Practice. This company helps people with their legal issues, for e.g. Divorce, Wills and Probate, Employment Law, Property Conveyancing and Child Contact Issues.

I have three colleagues who are also students studying law and doing their internship at the company. We often get tasks to do in team, what makes the work more interesting. My tasks are editing Excel tables, picking up the phone, welcoming clients and visiting clients who are very old. Sometimes I have to go to the new office, which is located opposite the company, to help my colleagues moving the desks, decorating, destroying the files they don't need anymore or to make space for a new employee.

Every Friday we all have lunch together and talk about our private stuff. They make suggestions what to do and visit in London, and they are also very interested in our Austrian school system and the differences between Austria and England.
I am very happy to be the part of this project and I would recommend it to everyone.

Ritika Kumar @ Eye Level Learning Centre
I leave home at about 8 am so I can sit in a calm Café and have enough time to enjoy my coffee every day. Sometimes I meet up with my colleague Sophia there who is also an intern at the company and lives in Slovakia.

I work at Eye Level not far away from where I live. The company is a learning centre that provides individualized coaching in Math and English for young children. What I like the most is that I have a nice balance of working on my own as well as working with children in a group.

I am the first person to arrive, so it is my responsibility to unlock the company's door with the keys they entrusted me with. I then start my work at 10 am by marking the tests and homework of the children. I have a tablet or an answer key where I have the solutions on hand. Sometimes the tests are so easy that I do mental arithmetic.
After marking the tests, the children slowly start to show up at 3 pm. My next task is to sit with 3-4 children in a room and help them whenever they raise their hands. They are well behaved which makes me feel comfortable working with them. It is a fun alternation from working on my own for hours.
Apart from that I really enjoy my time in London. There is not one single day I stay at home – I don't want to miss any chance to explore London.

Yvonne Jaki @ Mapledown School London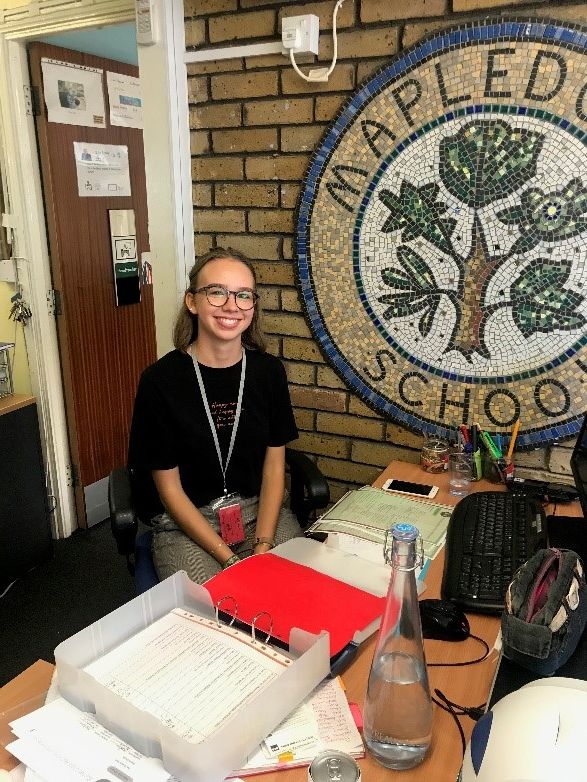 I work in the office at Mapledown School in London. This school provides education and support to children with multiple and severe learning difficulties like autism or a mental disability. When I got there on my first day, I immediately got a really good first impression which I still have. The staff is very nice and helpful and they explain everything very well.

My tasks include printing and copying documents, shredding, sorting through folders and keeping cupboards tidy. Since I work in a school, there are always things happening and the pupils are so happy to go to school which is very adorable. They get a lot of support from the teachers and I think the staff really cares about their wellbeing.

What you should definitely not underestimate is the commuting. My journey takes over an hour which is normal for Londoners. The underground trains can be quite confusing and overwhelming but once you get the hang of it you can go pretty much everywhere you want to go.

Nadina Golubovic @ Winmark Ltd
When I heard of this opportunity to live and work in London for two weeks, I knew instantly I wanted to go and that was the best decision I have made. The experience was eye-opening because I am thinking of going abroad after my A-levels, which made this project even more valuable to me. I thought I would need some time to get used to the changes but surprisingly it worked out more than fine for me immediately.
At the moment I am working as an internee for Winmark Ltd, which is a market research company for bigger companies, e.g. asos, BMW, BBC or dyson, but they also offer workshops in form of meetings for CEOs or different networks for each position e.g chief executive of finance. It is located in West Kensington which I could reach perfectly by tube without any transfers. I start at 9am and finish at 5pm so there is enough time to do stuff after work. From the first day on I have been very busy constantly working on different projects. My tasks include helping to prepare meetings, analysing surveys and creating power points, checking attendee lists, creating charts and I have even had the chance to attend some of their meetings with different CEOs. The employees are all super friendly and helpful and give me the freedom I need.
We have quite good weather which makes exploring the city a lot easier for us. Sightseeing is a must here because even two weeks are not enough to see everything in London. We usually go home first and have some dinner first before heading out. After freshening up we go on different adventures every day. Last weekend some friends and I went out which closed off the first week perfectly.