1AS besuchte das Lebzeltarium Kastner in Bad Leonfelden
Am 16. Oktober 2018 machte unsere Klasse die erste Exkursion in das Lebzeltarium Kastner nach Bad Leonfelden.
Nach der herzlichen Begrüßung ging unsere Führung auch schon mit den ersten wichtigen Informationen los. Zuerst wurden die Bestandteile für die Zubereitung von Lebkuchen erklärt. Im Unternehmen Kastner werden rund 50 Tonnen Blütenhonig pro Jahr und ca. 70 Tonnen Zucker pro Jahr verarbeitet. An Gewürzen, wie zum Beispiel Piment oder Zimt durften wir riechen. 600 Tonnen Schokolade wird im Unternehmen Kastner jährlich verarbeitet.
Nach der interessanten Führung durften wir unser eigenes Lebkuchenherz verzieren und unserer Kreativität freien Lauf lassen. Nach dem Verzieren haben wir uns eine Film über die Geschichte von Kastner, welcher sehr gut gemacht war, angeschaut.
Um 12:30 Uhr waren wir wieder in Linz. Uns hat dieser "Ausflug" ins Mühlviertel wirklich gut gefallen. [ Weitere Bilder finden sie hier ]
Dorentina Dervishi, 1AS
Kennenlerntag der 1DK
Obwohl das Herbstwetter sich nicht von seiner besten Seite gezeigt hatte, verbrachte die 1DK einen humorvollen und, sowohl wettermäßig, als auch programmlich, abwechslungsreichen Kennenlerntag (3.10.2018) in Spital am Phyrn.

Nach der kurzen, aber informationsreichen Einweihung in das Programm folgte die Einteilung in zwei Gruppen nach dem Vorbild der Familien Feuerstein und Geröllheimer, um ein Feuerstein-Auto zu bauen, welches anschließend in einem kurzen Rennen zwecks einer Schatzkiste zum Einsatz kam.
Nach einer kurzen Pause ging es in den angrenzenden Wald, in dem allerlei verschiedenste Übungen fortgesetzt wurden, deren Kernaussage klar war: If you want to go fast, go alone. If you want to go far, build a team. Doch bei all dem kamen zwei wichtige Dinge gar nicht zu kurz: Das gegenseitige Kennenlernen und vor allem der Spaß, der durch lautes Gelächter gekennzeichnet wurde.
Valentina Seric 1DK
Bericht Messe "Jugend und Beruf"
Die BHAK Linz-Auhof war auch heuer wieder auf der Berufsinformationsmesse "Jugend und Beruf" vertreten. Durch kompetente Beratung unserer Schüler wurde sowohl interessierten Schüler der Unterstufe als auch deren Eltern unsere Schule nähergebracht.
Für weitere Informationen laden wir Sie gerne zu unserem
Elterninformationsabend am 21. November 2018 um 19:00 Uhr
ein.
Der Tag der offenen Tür findet am 7. Dezember 2018 von 10:30 - 15:30 Uhr statt. (Nähere Informationen folgen demnächst.)
Kennenlerntag der 1AK
Bei prächtigem Herbstwetter fand am Freitag (28. 9. 2018) der Kennenlerntag der 1 AK in Kirchschlag statt. Die Schüler und Schülerinnen bewiesen nicht nur Geschicklichkeit, sondern auch Teamfähigkeit und Durchhaltevermögen.
Gleich in den frühen Morgenstunden zeigten sie bei der Wanderung von der Glasau über Davidschlag nach Kirchschlag sportlichen Einsatz. Danach standen unter anderem fast schon akrobatische Übungen auf der Slackline am Programm. Doch am schwierigsten war es sicher einem Mitschüler mit verbundenen Augen durch den Hindernisparcour zu folgen. Alle haben wirklich viel Einsatz und Humor gezeigt und sich das anschließende Burger-Essen redlich verdient.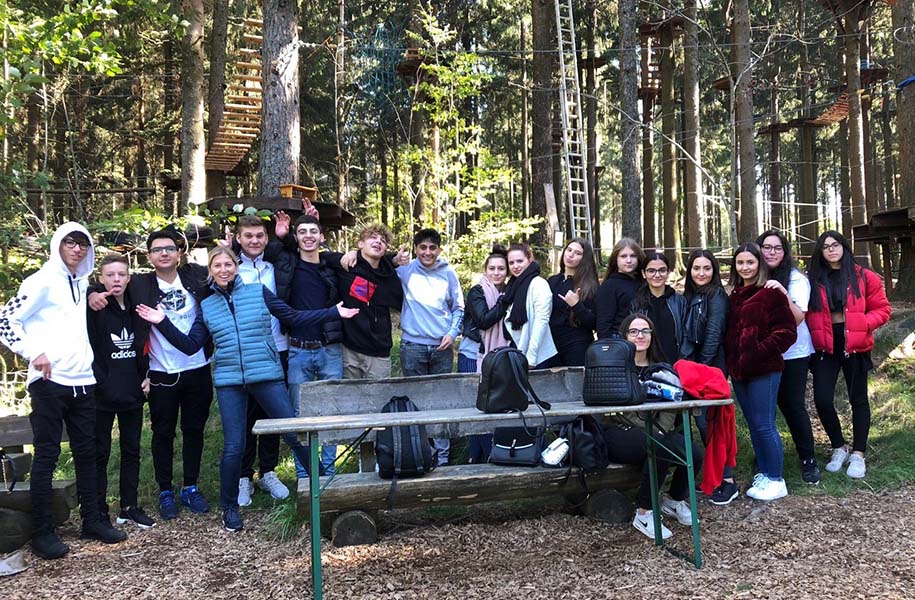 Final News from London
Obviously, the Erasmus project is not only work. There is also time for sightseeing, shopping and socializing, both after work and on the weekend.
(c) BHAK Linz-Auhof
IT WAS GREAT! Thank you very much...
Pius Ditachmair @ SRi Executive
The telephone is ringing. "Hey there, Pius speaking!"
Fortunately, I only have to answer internal calls and don't have to test my English skills with important clients of SRi Executive, which is the company I am working at for two weeks.

SRi is a globally acting sports recruitment office and its headquarters is located right in the city centre of London next to Victoria Station and near Buckingham Palace. SRi is searching for managers on junior and senior level for their customers who are active in sports. Among their clients are famous companies such as Chelsea FC, FC Barcelona, Adidas, the UFC, the WWE, the NBA and Red Bull, to name just a few of them. That really impressed me!

SRi is a very young, dynamic and cool company, so it's no surprise I am feeling in good hands here. My tasks cover a wide range of things, such as helping my supervisor with general administration work, as well as lighten the marketing department's workload, by creating social media posts, presentations and the weekly newsletter. I even had the opportunity to learn how to build a microsite on their website which - like the other tasks I mentioned- has the purpose of connecting potential candidates to their customers even faster.

Luckily, we also have some free time here. This allowed me to explore some beautiful places and getting a feel for London. When going out on the weekend to have fun in the pubs of Camden Town you will also meet many friendly people to chat with. I am very thankful to be able to gain these experiences and glad that people at our school are making this possible.
Pius Ditachmair, 5AK
Elisabeth Tien @ TELC UK
As I have already been to London twice I did not hesitate to apply for Erasmus+ when I got the opportunity. Since London is one of my favourite cities of all time I was really excited to gain work experience here. Although you have to get used to the people who are always in a hurry and also the enormous traffic in the mornings it has been wonderful here and there are friendly people everywhere.
I work at an English Language school called TELC UK, it is situated in Wood Green in the north of London. While I was really excited to use the tube to get to work like everyone else, I unfortunately have to take the bus.  I usually start at 9 am but most of the time my working hours are flexible. Sometimes I start at 10 am, sometimes at 9:30 am and leave at 4 pm or 4:30 pm. Being an intern in an English language school, I mainly update their social media sites. I also register new students and answer phone calls. On some days I am able to participate in English Conversation classes which remind me of EKON in our school. During the last few days I have done some research on other social media sites to find out which one could be helpful for TELC UK.
After work is the best time to explore London. So we meet in the city center and go sightseeing and of course we have to do some shopping as well. For shopping, Oxford street is the best choice and if you are interested in vintage Camden Market is full of vintage clothes, cameras and so much more. On the weekend we all got together and had a drink in a pub.
All in all this has been a great experience and I will always remember the memories I have made here. (Although the weather has been crazy.)
Elisabeth Tien, 5BK
Schnitzeljagd für die 1. Klassen
Mit großer Begeisterung haben die Schülerinnen und Schüler der ersten Klassen an einer Schnitzeljagd teilgenommen. Im Rahmen dieser Schnitzeljagd mussten die "neuen" Schülerinnen und Schüler unsere Schule erkunden.
Neben der räumlichen Suche nach EDV-Räumen, Turnsaal oder Übungsfirma lernten die Schüler auch gleich unsere Frau Dir. Mag. Ackerlauer, das gesamte Personal, wie Sekretariat, Schulwart, Buffetverkäuferinnen kennen.
In 20 Fragen bzw. Stationen sammelten die Schüler Puzzleteile und zum Abschluss legten sie diese zu einem Bild zusammen. Als Belohnung gab es Schokolade für unsere neuen "Fohlen".
Nochmals HERZLICH WILLKOMMEN in der BHAK Linz-Auhof!
Jonas Eckmann @ Wexas Travel
As soon as I heard of the opportunity to join the Erasmus + programme and travel to London for two weeks I was certain that this would benefit me a lot. I think it is a great idea to gather some work experience abroad as well as improve my English skills.
Right now I am completing an internship for Wexas Travel, which is a travel agency for tailor made luxurary travel. My main task is to exchange the layout for small brochures the company hands out to important customers. Since Wexas has a club system where members can win prices or benefit from discounts I sometimes help out managing the membership registrations.

A typical workday starts at 9:30 and ends at 5 o'clock pm. In my one hour long lunch break I like to take a walk through the city and get in touch with new people.
Even though we are mostly here for work, we are also having a lot of fun in the evenings and during the weekends by going to a pub or a museum.
I really encourage every student who is interested in working abroad to join this programm next year. See you at home!
Jonas Eckmann, 5AK
Selin Bayhan @ Reynard Resources
The company that I have the honor to work for is called Renard Resources and is located in Covent Garden, Central London. It is a recruitment agency which provides work force in the hospitality sector for five star hotels and fine dining events. Basically, the candidates who are looking for a position come into the office, take part in an onboarding training session and after all the administrative work has been done, they get assigned to shifts at one of Renard's clients.

At work I was able to make a full circle experience. From the moment the candidate gets invited to the office until the last step of uploading their data onto the database I was able to experience every step and contribute to each while working in this company. Since I worked in a recruitment company two years ago as a candidate myself, it is very interesting to see the processes of this niche from the administrative perspective.