Our students in a recruitment agency (report from London)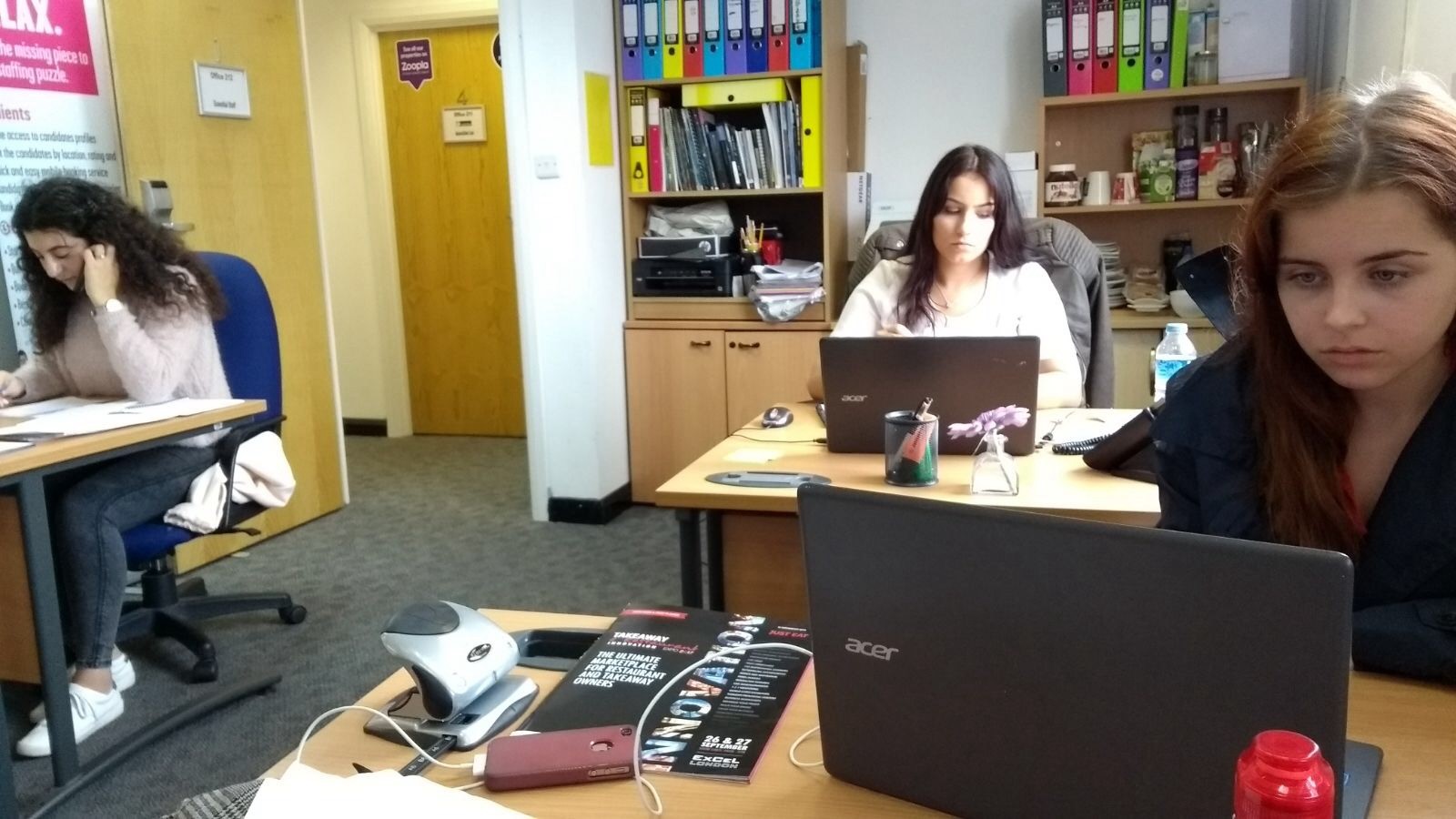 We (Lea, Lisa & Irem) work for Essential Staff Ltd., a recruitment agency specialized in the restaurant and catering industry.
Our main task is to help restaurants and hotels filling positions with professional staff.
That basically means that we, for example, get an enquiry from a restaurant that wants us to find a restaurant manager or any other staff members that are necessary for running a restaurant.
As soon as we receive this enquiry we have to start searching for possible candidates. Therefore, we check different CVs on plattforms such as Caterer, Linkedin, etc. and call candidates who would fit in the free Position.
During this phonecall we try to agree upon a date for an interview.
During such an interview they should register with our plattform and give us a first impression about them. After the interview we, then, call our client (the restaurant) and agree upon a date for a job interview between the client and the candidate.
Lisa, Lea & Irem
Network and Business administration at Hab&Kal Properties
During my placement at Hab&Kal Properties I am assisting the management with their technical problems. I set up the company's network so they are able to share files with the use of an FTP server. Due to the fact that the FTP server is working perfectly, I was able to connect the printer and the scanner, so now, in case they need to print something, they can also do so from home. So, let's say they have to print out rent contracts, which are quite long, they can do so from home and save tons of money.
Whenever my colleagues are occupied, I am accepting calls and taking notes regarding what they need assistance with, so my colleagues can call them back and assist them with their inquiries.
Fabian F. (5BK)
Erasmus PIE Project 2017
Sep 3, 2017:

On Sunday, at the crack of dawn and in pouring rain, this year's HAK Auhof Erasmus PIE Project participants set off for London, unfazed by the early hour and the downpour - presumably when the rest of the HAK Auhof student population was still fast asleep and enjoying their last few lazy mornings before the start of the school year.
Not so our Erasmus group. Our flight left at 6:05am for London via Frankfurt.
20 students from this year's graduating classes 5AK, 5BK, 5CK and 3AL are spending the next two weeks in London working in various local companies and honing their Business Administration and English language skills.

In case you were wondering: "PIE" stands for "Praktikum in England".
What better preparation for the world of work (AND the RDP exam!) can you think of that also allows you to spend two weeks in one of the world's top cities??
2017 HAK Auhof Erasmus PIE Project group.
Stay tuned for updates.
Ms Stekl (live from London)
Verleihung der FIRI-Zertifikate
Auch heuer fand die FIRI-Zertifikatsverleihung wieder in einem feierlichen Rahmen auf dem Schiff "Anton Bruckner" statt. Viele Maturanten stellten sich zwischen der schriftlichen und mündlichen Matura auch der externen Prüfung aus Finanz- und Risikomanagement.
Die Sparte Bank und Versicherung der WKOÖ, vertreten durch den Spartengeschäftsführer Dr. Friedrich Filzmoser (rechts im Bild), belohnte die erfolgreichen Schüler/innen und lud zu einer Donaurundfahrt inkl. Buffet ein.
Herzliche Gratulation den stolzen FIRI-Zertifikats-Besitzern und ein großes Dankeschön an die Wirtschaftskammer für diesen wunderschönen Event.
Gratulation zur bestandenen Matura
"Dass tolle sportliche und schulische Erfolge durchaus vereinbar sind, bewiesen und uns wieder einmal vier Maturanten der heurigen 5 BK.
Daniel Wittek, Anika Wakolbinger, Andrea Dumfart und Paul Mairinger (v.l.n.r.) erreichten nicht nur den ersten Platz des "Asics Staffelmarathon - Schule läuft" (16. Oberbank Linz Donau Marathon), sondern schafften auch die Matura mit wirklich guten Ergebnissen.
Wir gratulieren dazu recht herzlich.