Irina Schramm @ Compliance Recruitment
Working abroad is a great opportunity and when I first heard of Erasmus + I immediately wanted to join the program. The company I am working for is called Compliance Recruitment Solutions and is located in the City of London in Token House Yard. As the name already tells, they are recruiting people for certain jobs and help their candidates e.g. with writing their CV or getting prepared for a job interview.
My main tasks are organising the CVs of their candidates, answering the phone and doing researches for my working colleagues. The atmosphere in the office is very nice, because having chats with my colleagues during work is common. At first the working times were a bit strange to me, because on some days I start at 11 am and have lunch at 3 pm, but sleeping in also has its benefits.
Apart from working there is also enough time to discover London and I was surprised how many faces the city has. It is impossible to get bored here, because there are so many things to see and therefore, I am very grateful to be able to spend two whole weeks here.

Michael Großauer @ Influential English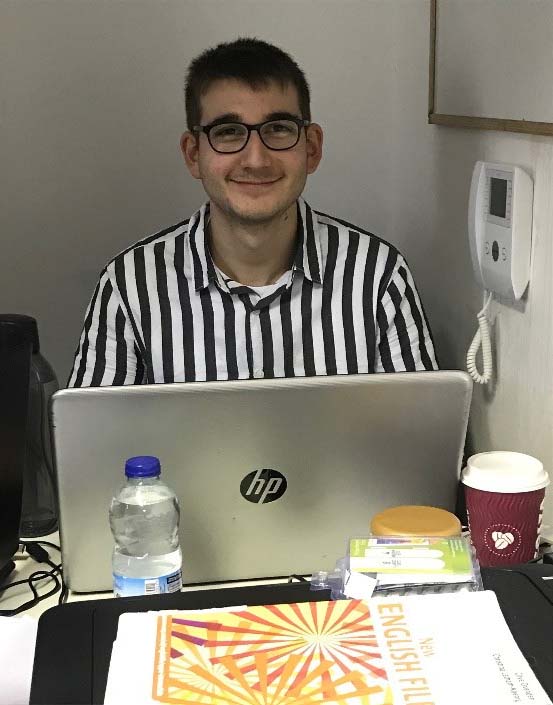 At the moment I'm completing an internship for Influential English, which is an English language school in Marylebone, West End of London. This school provides general to IELTS courses as well as online courses. As an intern in an English language school, I mainly update their social media sites and send e-mails to students which have taken the school's online English test. I usually start at 9 a.m. and leave at 3 p.m. or 3:30 pm. In my one-hour lunch break, I often go to Regent's park and eat my lunch there.
The office is basically a small table with a laptop in the classroom where my boss is teaching next to me. That's great because I'm actually in an English course and can sometimes listen to it.
Luckily, we have some free time here, too. After work or on the weekend, we can go sight-seeing, shopping, exploring, etc. London has so many different things to offer which is great because you can always find new spots.
All in all, this experience is really great to explore the city and also to improve your English skills.

Julia Füreder @ Empire Estates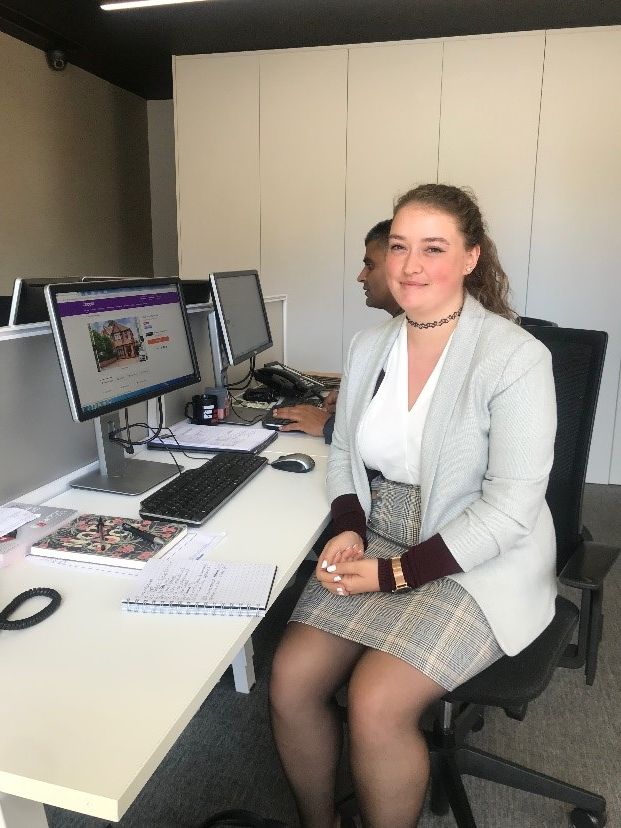 I start my work at about 9 o'clock. The company I am working at is called Empire Estates and is a real estate agency. Some of my tasks are doing research about houses on sale in the area around the office and checking the price list of the lettings of Empire Estates. I learned how to make phone calls there too.
At first, I was worried that my colleagues might be distant and only focused on the business but as I met them, I quickly realised that, although they are highly professional, they are really friendly and funny, too.
I'm sure this working experience is a great way to broaden my horizon and to get an insight into the real estate business.
Gratulation: Vize-Landesmeister in Tennis
Am Mittwoch, 3. Juli 2019, fanden die Endspiele der Schulmeisterschaften 2018/19 in Tennis auf der ETV-Anlage in Enns statt. Unser Team konnte sich durch Siege über HBLA Lentia, gegen das BORG Honauerstraße und das Europagymnasium Auhof in der Vorrunde für dieses oö. Finale qualifizieren.
Für das Finale qualifizierten auch noch das BG/BRG Enns, das BRG Steyr und BRG Ried. Leider konnten die Rieder nicht antreten und so wurde das Finale durch den Modus "Round-Robin" (jeder gegen jeden) entschieden.
Im einem hochklassigen Auftaktmatch (lt. Organisatior Mag. Söllinger Heinz: "hochklassiges Jugendniveau") verlor  Adrian Aigner (4AK) nach einer 5:2 Führung gegen Prammer Johannes (Enns), dem derzeit besten Jugendspieler in OÖ (Jahrgang 2001 und jünger). Penn Philipp (3BK), Kristina Irndorfer (4CK), Tobias Oyrer (4AK) und auch Adrian Aigner konnten in weiterer Folge aber Siege  "einfahren". In den entscheidenden zwei Doppeln waren aber die Ennser zu stark für unser Team. 
Das BG/BRG Steyr konnte aber doch eindeutig bezwungen werden und so gewann unser Top-Team den VIZELANDESMEISTER in Tennis.
Der Pokal wurde durch den Fachinspektor für Bewegung und Sport, Herrn Mag. Fritz Scherrer, überreicht.
Schulfest 3. Juli 2019
Am 3. Juli findet wieder das Schulfest der HAK Linz-Auhof statt. Wir werden in unserem neugestalteten Innenhof gemeinsam Volleyball spielen, plaudern, grillen und picknicken und das ablaufende Schuljahr gemütlich ausklingen lassen. Einen besonderen Höhepunkt stellt wieder das alljährliche Lehrer-Schüler-Duell dar, bei dem sich die Lehrkräfte mit Schülerinnen und Schüler in verschiedenen Bewerben messen und um den Verbleib des Wechselpokals für das nächste Jahr kämpfen.

Bei dieser Veranstaltung wird auch das JugendReferat des Landes Oö. mit einem Infostand zum Thema Jugendschutz vertreten sein. Dort erhalten Interessierte kostenlos Infos, Broschüren und Plakate zu diesem für junge Leute so wichtigen Thema. Außerdem können alle Jugendliche von 9 - 18 Jahren beim Jugendschutz-Gewinnspiel mit Wissen und etwas Glück einen der Hauptpreise gewinnen. Die Preisverlosung findet unter den anwesenden Jugendlichen vor Ort statt.

Beim Jugendschutz-Infostand wird es auch Gratis-Getränkemarken für einen alkoholfreien Cocktail geben - einzulösen an der Barfuss-Bar.

Wir freuen uns auf einen gemütlichen Vormittag.