News from London: Thomas Sonnleitner @Century 21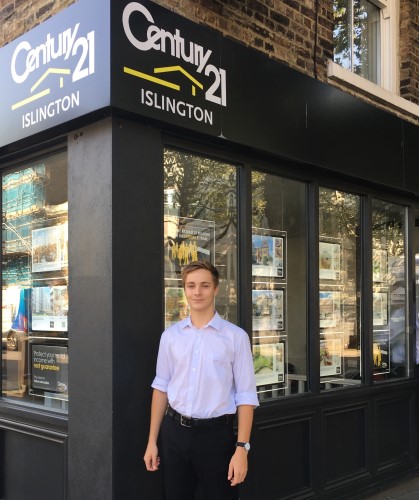 As I availed myself of the unique opportunity of working in the capital of the United Kingdom, I am currently completing an internship at Century 21, which is a residential estate agency.
The company is located just 10 minutes from well-known Piccadilly Circus.

My assigned tasks are handing out information leaflets to potential clients and entering potential customers into the internal database. During "leafletting" I have a lot of nice conversations with the local population.
In my one-hour lunch break I wander around the lovely streets of London and eat typical English food, such as fish 'n' ships.

After work, which usually ends at 5 p.m., I go sightseeing with my friends or we just go out for a drink at a pub.
Through the internship I am getting a valuable insight in the everyday routine of a British business. I am truly grateful for this experience.

Thomas Sonnleitner
News from London
After a very early start on a drizzly morning at the Linz train station, this year's twelve Erasmus project candidates safely arrived here in London around lunchtime of September 3rd. While the sky above Linz was weeping when we left, London greeted us with sunshine and agreeably warm weather.

On the next morning, the group met at ADC College to fill out forms and receive instructions and useful tips how to get the most out of their work placement experience.
En Méditerranée - die Sprachreise der 4. Klassen
Eine aufregende und wunderschöne Woche verbrachten Schüler der 4.Klassen in Nizza. Auch der Sprachunterricht war sehr erfolgreich – zwei Beiträge unserer Schüler verdeutlichen das:
Notre séjour à Nice du 24 juin au 30 juin 2018

La semaine en France a commencé avec le voyage par bus et par avion. Dimanche matin, les étudiants de la 4e classe ont pris le bus jusqu'à Munich. Vers midi, on est arrivé à l'aéroport de Nice où les familles d'accueil avaient attendu.
On peut dire que la majorité avait de la chance avec les familles d'accueil et leurs repas. En général, ils étaient très sympas, ils ont essayé de nous aider à trouver des bâtiments dans la belle ville.

Du lundi au vendredi, nous avions cours dans notre école de langues pendant la matinée. Après, il y avait des bonnes excursions avec nos animateurs, par exemple la visite de Nice (se baigner dans la mer inclus), la randonnée à Antibes avec le musée Picasso et finalement la visite de Monaco. Entre les excursions, on avait assez de temps pour appliquer la langue, se baigner dans la mer et naturellement pour sortir pendant la soirée.

Nous sommes rentrées fatigués à Linz samedi à minuit – presque chaque personne est rentrée sans problèmes. En résumé, on peut souligner que cette semaine nous a beaucoup plu à cause du temps sec, chaud et la belle ambiance.

Christian Klemens, 4BK
En el Mediterráneo- die Sprachreise der 4. Klassen
Una semana maravillosa

La semana pasada nosotros, un grupo de alumnos de las clases 4AK, 4BK y 4CK, estuvimos en Nizza, una ciudad maravillosa en el sur de Francia. Todos los días hacía muy buen tiempo, con mucho sol y calor.

Por las mañanas tuvimos tres horas de clase para mejorar nuestras habilidades comunicativas de francés/español y por las tardes hicimos excursiones, por ejemplo a Antibes donde visitamos el museo de Picasso, o a Monaco donde vimos muchos coches y yates muy caros. También tuvimos mucho tiempo libre para poder ir a la playa o ir de compras.

¿Y por las noches? Nos divertimos mucho en la playa y claro, también en los bares con un poquito de alcohol. Pero el resto lo mantenemos en secreto.
En resumen fue una semana muy divertida y además aprendimos mucho. Por eso nunca vamos a olividar esta experiencia.
Anton Eder, 4AK
Abschlussfahrt Prag
Die 2BK verbrachte gemeinsam mit Prof. Kainrath und KV Prof. Jabornegg den Donnerstag und Freitag der vorletzten Schulwoche in Prag.
Neben Karlsbrücke, tanzendem Haus und Prager Burg standen ein Besuch im Schokoladenmuseum und im Illusionsmuseum auf dem Programm. Auch die Freizeit kam nicht zu kurz.
Von welcher Stadt werden wir nächstes Jahr berichten?