century21 London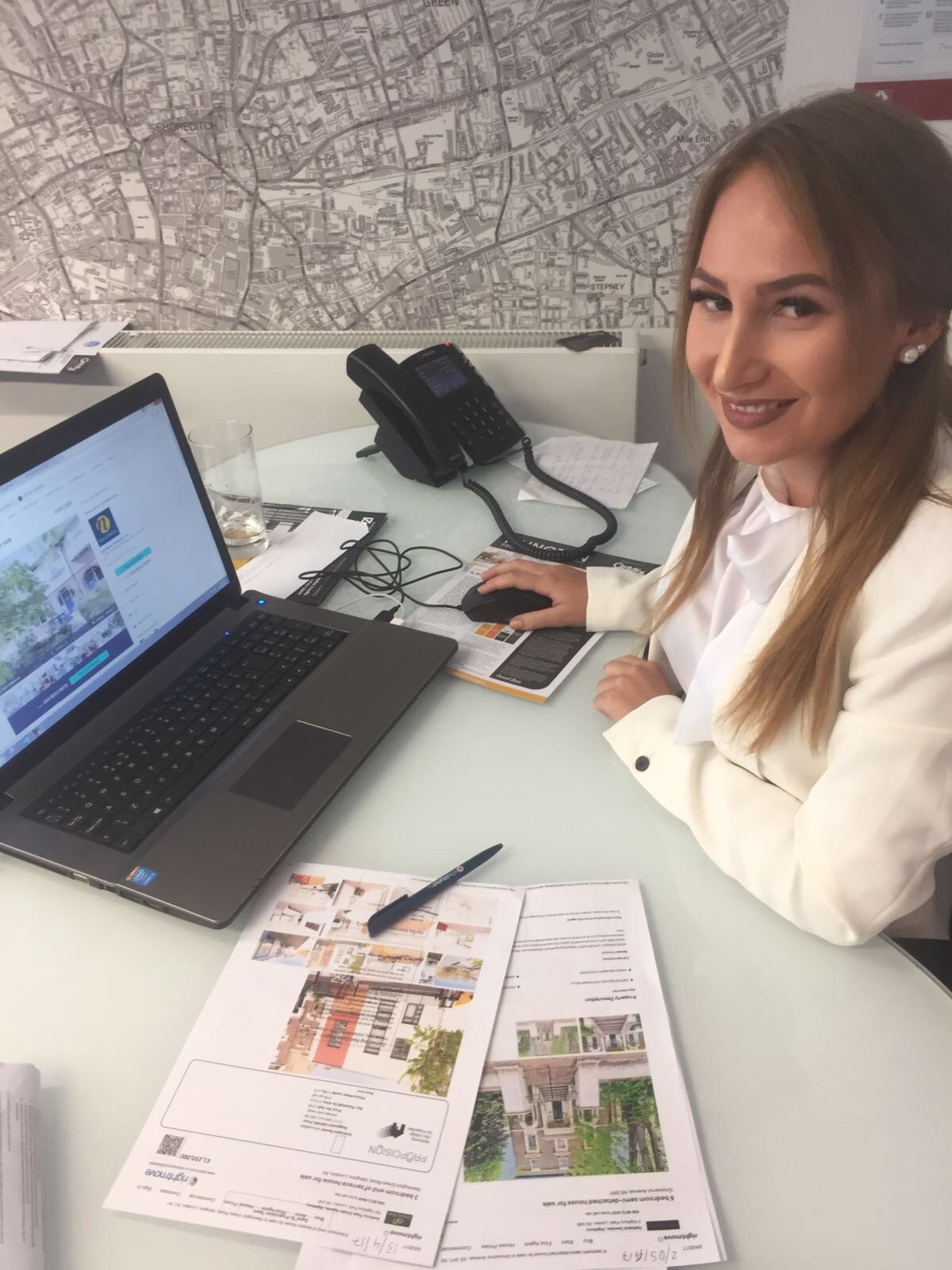 During my time in London, I am gaining work experience at Century 21 United Kingdom.
Century 21 is a real estate company located in the beautiful streets of Islington.
My main task is to find out potential properties which are currently on the market with other agents. In the next step, I have to find out the correct addresses using google streetview, so we can send out canvass letters in the hope of procuring their business.  Further, I have to enter the customer's details and the property's information into a database which helps to find the perfect property for each client. Other duties include answering the telephone, taking the client's name and number or connecting the calls to my colleagues.
During my lunch break, I always walk through the lovely market selling delicious food from around the world, which is just around the corner.
This short internship has helped me a lot in regard to practising my English and business administration skills. I enjoyed my time at Century 21 immensely.
Bruno at Mayfords estate agents
I am working for the estate agency "Mayfords estate agents" which is located in Harrow, selling and managing properties in London. Working in an estate agency means always finding the right balance between customer and landlord satisfaction. Thus, all the employees are most polite and respectful when it comes to interactions between these parties and the estate agency. The company also puts high value into being professional and also looking like that which means they have a pretty strict dress code.
As "Mayfords" is not only selling or offering properties to rent but also managing these properties one has got a lot of contact to tenants if there occurred any problem with the property or if there are some changes in the tendency. My task is to keep everything organised to enable this interaction. So, I have already proved folders whether all the documents are there and if they are there I need to prove their validity. Further I have done a part of the accounting of some flats and blocks and sorted some files.

Bruno Brodik
Our students in a recruitment agency (report from London)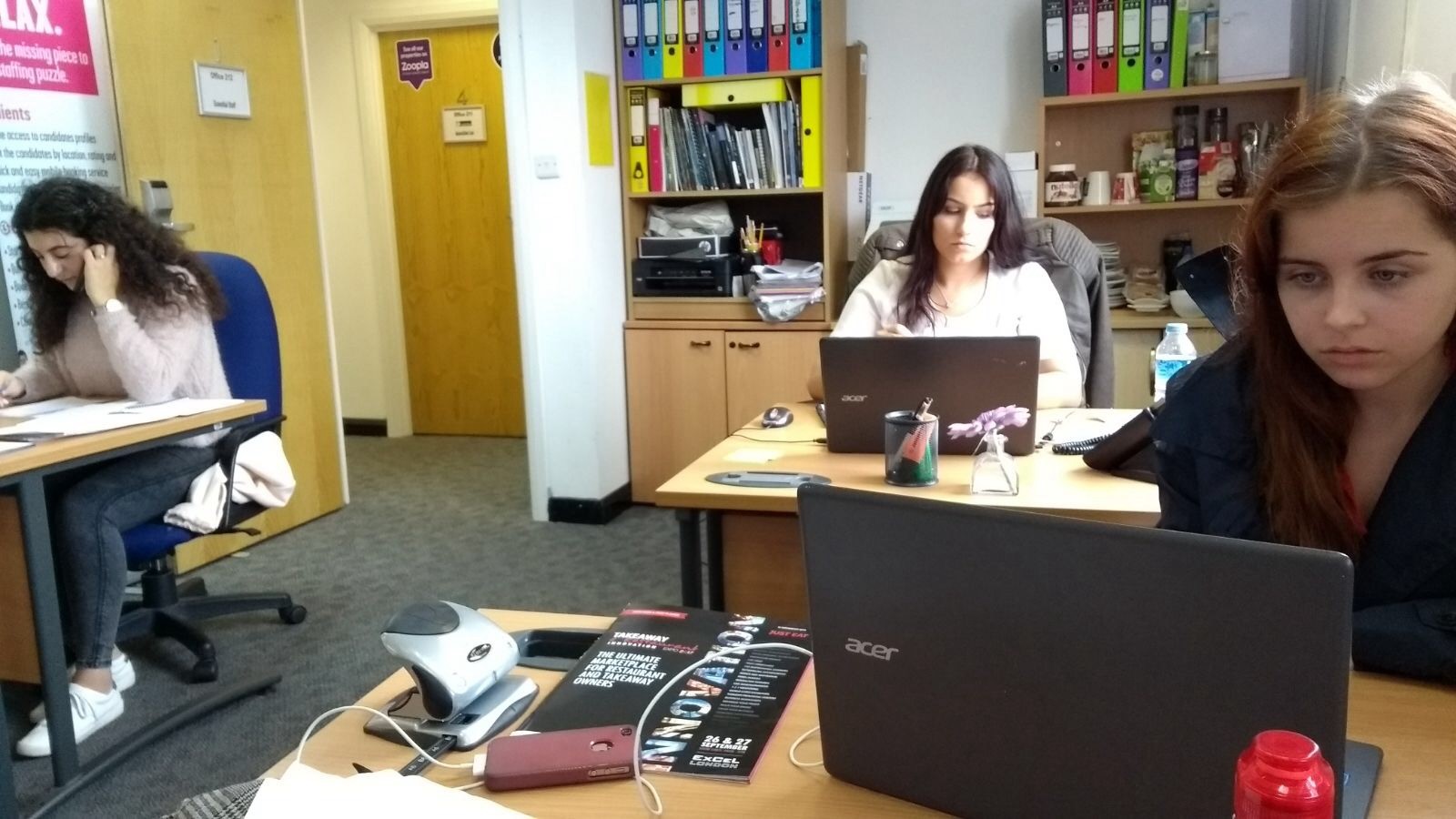 We (Lea, Lisa & Irem) work for Essential Staff Ltd., a recruitment agency specialized in the restaurant and catering industry.
Our main task is to help restaurants and hotels filling positions with professional staff.
That basically means that we, for example, get an enquiry from a restaurant that wants us to find a restaurant manager or any other staff members that are necessary for running a restaurant.
As soon as we receive this enquiry we have to start searching for possible candidates. Therefore, we check different CVs on plattforms such as Caterer, Linkedin, etc. and call candidates who would fit in the free Position.
During this phonecall we try to agree upon a date for an interview.
During such an interview they should register with our plattform and give us a first impression about them. After the interview we, then, call our client (the restaurant) and agree upon a date for a job interview between the client and the candidate.
Lisa, Lea & Irem
Network and Business administration at Hab&Kal Properties
During my placement at Hab&Kal Properties I am assisting the management with their technical problems. I set up the company's network so they are able to share files with the use of an FTP server. Due to the fact that the FTP server is working perfectly, I was able to connect the printer and the scanner, so now, in case they need to print something, they can also do so from home. So, let's say they have to print out rent contracts, which are quite long, they can do so from home and save tons of money.
Whenever my colleagues are occupied, I am accepting calls and taking notes regarding what they need assistance with, so my colleagues can call them back and assist them with their inquiries.
Fabian F. (5BK)
Schulbeginn: Montag, 11. September 2017
 ACHTUNG - ACHTUNG - ACHTUNG !!!
Am Montag beginnt die Schule um 09:45 Uhr !
Semester- und Wiederholungsprüfungen starten um 07:50 Uhr (siehe unten!)
Mo, 11. September 2017

07:50

09:45

11:30

 

- 09:30

- 11:25

- 17:00

Semester- und Wiederholungsprüfungen

Klassenvorstandsstunden

Semester- und Wiederholungsprüfungen


 

Di, 12. September 2017

07:50

07:50

11:30

- 11:25

- 09:30

- 17:00

ca. 17:00

Unterricht lt. Stundenplan

Semester- und Wiederholungsprüfungen

Semester- und Wiederholungsprüfungen

Notenkonferenz



Mi, 13. September 2017

 

07:50

ab 14:00

- 13:20

 

 

Unterricht lt. Stundenplan

Eröffnungskonferenz



Do, 14. September 2017

07:50

- 13:20

 

Unterricht lt. Stundenplan



Fr, 15. September 2017

07:50

- 13:20

 

Unterricht lt. Stundenplan


Wiederholungs- und Semesterprüfungen lt. Anschlag an der Eingangstür. 
Nächste Termine:
28.05.2018, 07.30

-

00.00

Uhr
mündliche AP HAS inkl. Präs. u. Disk., MinR OStR Mag. Ingrid Weger (bmb)

29.05.2018, 07.30

-

00.00

Uhr
mündliche AP HAS inkl. Präs. u. Disk., MinR OStR Mag. Ingrid Weger (bmb)

29.05.2018, 14.00

- Uhr
Klausurkonferenz sRDP

29.05.2018, 15.15

- Uhr
Anmeldung zur Kompensationsprüfung (spätestens bis 01.06.)

30.05.2018, 07.30

-

00.00

Uhr
mündliche AP HAS inkl. Präs. u. Disk., MinR OStR Mag. Ingrid Weger (bmb)

30.05.2018, 18.30

- Uhr
Abschlussfeier Handelsschule

31.05.2018, 08.00

- Uhr
Fronleichnam, unterichtsfrei

01.06.2018, 08.00

- Uhr
Unterrichtsfrei lt. Beschluss SGA

05.06.2018, 07.30

- Uhr
Kompensationsprüfungen HAK/AUL (sRDP, BFK)

06.06.2018, 07.30

- Uhr
Kompensationsprüfungen HAK/AUL (sRDP)