News from London, part 3
When I first heard that Erasmus+ and our school have a cooperation that allows students to spend two weeks working as interns in local businesses in foreign countries, I didn't think twice - of course I wanted to get hands-on experience!
The company I work at is called "Almont Travel" and is a luxury travel agency. My tasks include visiting visa institutions where I pay for clients' visa and pick up their passports. Besides that I do all the administrative work that needs to be done, for example when a client comes in requesting a visa for a certain country, I create the order. Also the first thing I do when I come into the office in the morning, is creating excel tables for the orders that need to be lodged or collected on this day.
I am very lucky, working right next to St. Paul's Cathedral, which is in the "City of London" district, so right in central London. I used to spend my lunchbreaks with my intern-colleague Lea, but since she left on Thursday I started walking around the area close to my office - there are about 20 bistros where they offer all different kinds of food; whether you desire Asian cuisine, Italian or basic sandwiches - you can get it all.
This is my fourth time in London so I actually know the city quite a bit - however, there are still places I haven't seen. That's why I usually meet up with the others and explore London - this weekend we spent the majority of our time at "Camden Market". It's an area where lots of vintage clothing and handmade jewellery is being offered, as well as delicious food, starting from pasta made of tomatoes and burgers made of egg yolks to 1m sandwiches.
All I can say is that so far this programme has been an amazing experience and I can recommend it to anyone who has the opportunity to participate in it - you will definitely not regret it!
Monya Talebi, 5AK
Leonhard Ditachmair @ Alliance Solicitors
Working abroad is a really great opportunity given to us by our school in cooperation with Erasmus+. It's my first working experience in a different country and especially in a city like London, work is getting a lot of fun.
A typical work day starts, later than at other places, at 10:30. That's why I usually use the time going to the city or reading a book before I start working. As I work for an immigration solicitor I get in touch with a lot of different accents and people, which is good training for the multicultural 8 million city of London and is also particularly interesting because of Brexit. My main task is answering phone calls and writing letters to clients. But as I realized that the company needs help with layouts and digital organisation, I offered to help in this matter, too. So, I could eventually use my Office Management skills in practise!  
But being in the city of London, work is not all we do here. Normally my friends and I will meet up in the city to visit some gorgeous buildings or just go to a nice pub. Through the combination of working in this city and doing a lot of sightseeing here, I gained a great feel for this incredible city. I am actually living here! (At least for two weeks)  
News from London: Thomas Sonnleitner @Century 21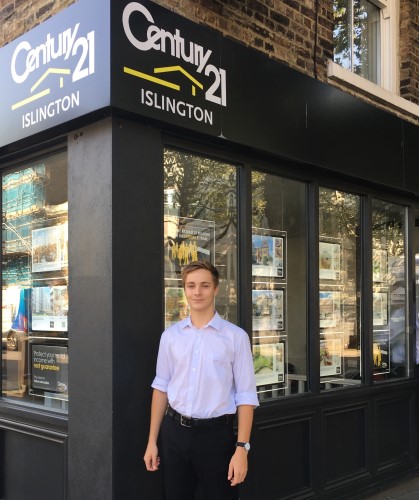 As I availed myself of the unique opportunity of working in the capital of the United Kingdom, I am currently completing an internship at Century 21, which is a residential estate agency.
The company is located just 10 minutes from well-known Piccadilly Circus.

My assigned tasks are handing out information leaflets to potential clients and entering potential customers into the internal database. During "leafletting" I have a lot of nice conversations with the local population.
In my one-hour lunch break I wander around the lovely streets of London and eat typical English food, such as fish 'n' ships.

After work, which usually ends at 5 p.m., I go sightseeing with my friends or we just go out for a drink at a pub.
Through the internship I am getting a valuable insight in the everyday routine of a British business. I am truly grateful for this experience.

Thomas Sonnleitner
News from London
After a very early start on a drizzly morning at the Linz train station, this year's twelve Erasmus project candidates safely arrived here in London around lunchtime of September 3rd. While the sky above Linz was weeping when we left, London greeted us with sunshine and agreeably warm weather.

On the next morning, the group met at ADC College to fill out forms and receive instructions and useful tips how to get the most out of their work placement experience.
En Méditerranée - die Sprachreise der 4. Klassen
Eine aufregende und wunderschöne Woche verbrachten Schüler der 4.Klassen in Nizza. Auch der Sprachunterricht war sehr erfolgreich – zwei Beiträge unserer Schüler verdeutlichen das:
Notre séjour à Nice du 24 juin au 30 juin 2018

La semaine en France a commencé avec le voyage par bus et par avion. Dimanche matin, les étudiants de la 4e classe ont pris le bus jusqu'à Munich. Vers midi, on est arrivé à l'aéroport de Nice où les familles d'accueil avaient attendu.
On peut dire que la majorité avait de la chance avec les familles d'accueil et leurs repas. En général, ils étaient très sympas, ils ont essayé de nous aider à trouver des bâtiments dans la belle ville.

Du lundi au vendredi, nous avions cours dans notre école de langues pendant la matinée. Après, il y avait des bonnes excursions avec nos animateurs, par exemple la visite de Nice (se baigner dans la mer inclus), la randonnée à Antibes avec le musée Picasso et finalement la visite de Monaco. Entre les excursions, on avait assez de temps pour appliquer la langue, se baigner dans la mer et naturellement pour sortir pendant la soirée.

Nous sommes rentrées fatigués à Linz samedi à minuit – presque chaque personne est rentrée sans problèmes. En résumé, on peut souligner que cette semaine nous a beaucoup plu à cause du temps sec, chaud et la belle ambiance.

Christian Klemens, 4BK