Ritika Kumar @ Eye Level Learning Centre
I leave home at about 8 am so I can sit in a calm Café and have enough time to enjoy my coffee every day. Sometimes I meet up with my colleague Sophia there who is also an intern at the company and lives in Slovakia.

I work at Eye Level not far away from where I live. The company is a learning centre that provides individualized coaching in Math and English for young children. What I like the most is that I have a nice balance of working on my own as well as working with children in a group.

I am the first person to arrive, so it is my responsibility to unlock the company's door with the keys they entrusted me with. I then start my work at 10 am by marking the tests and homework of the children. I have a tablet or an answer key where I have the solutions on hand. Sometimes the tests are so easy that I do mental arithmetic.
After marking the tests, the children slowly start to show up at 3 pm. My next task is to sit with 3-4 children in a room and help them whenever they raise their hands. They are well behaved which makes me feel comfortable working with them. It is a fun alternation from working on my own for hours.
Apart from that I really enjoy my time in London. There is not one single day I stay at home – I don't want to miss any chance to explore London.

Yvonne Jaki @ Mapledown School London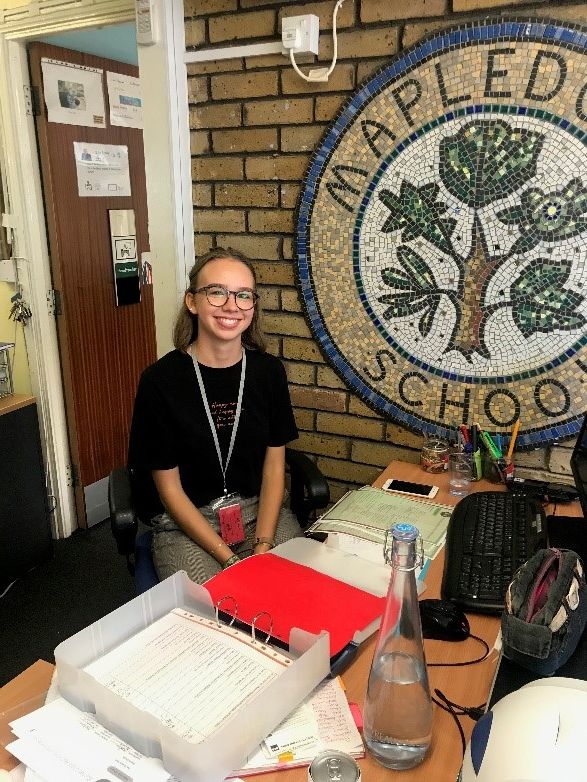 I work in the office at Mapledown School in London. This school provides education and support to children with multiple and severe learning difficulties like autism or a mental disability. When I got there on my first day, I immediately got a really good first impression which I still have. The staff is very nice and helpful and they explain everything very well.

My tasks include printing and copying documents, shredding, sorting through folders and keeping cupboards tidy. Since I work in a school, there are always things happening and the pupils are so happy to go to school which is very adorable. They get a lot of support from the teachers and I think the staff really cares about their wellbeing.

What you should definitely not underestimate is the commuting. My journey takes over an hour which is normal for Londoners. The underground trains can be quite confusing and overwhelming but once you get the hang of it you can go pretty much everywhere you want to go.

Nadina Golubovic @ Winmark Ltd
When I heard of this opportunity to live and work in London for two weeks, I knew instantly I wanted to go and that was the best decision I have made. The experience was eye-opening because I am thinking of going abroad after my A-levels, which made this project even more valuable to me. I thought I would need some time to get used to the changes but surprisingly it worked out more than fine for me immediately.
At the moment I am working as an internee for Winmark Ltd, which is a market research company for bigger companies, e.g. asos, BMW, BBC or dyson, but they also offer workshops in form of meetings for CEOs or different networks for each position e.g chief executive of finance. It is located in West Kensington which I could reach perfectly by tube without any transfers. I start at 9am and finish at 5pm so there is enough time to do stuff after work. From the first day on I have been very busy constantly working on different projects. My tasks include helping to prepare meetings, analysing surveys and creating power points, checking attendee lists, creating charts and I have even had the chance to attend some of their meetings with different CEOs. The employees are all super friendly and helpful and give me the freedom I need.
We have quite good weather which makes exploring the city a lot easier for us. Sightseeing is a must here because even two weeks are not enough to see everything in London. We usually go home first and have some dinner first before heading out. After freshening up we go on different adventures every day. Last weekend some friends and I went out which closed off the first week perfectly.

Irina Schramm @ Compliance Recruitment
Working abroad is a great opportunity and when I first heard of Erasmus + I immediately wanted to join the program. The company I am working for is called Compliance Recruitment Solutions and is located in the City of London in Token House Yard. As the name already tells, they are recruiting people for certain jobs and help their candidates e.g. with writing their CV or getting prepared for a job interview.
My main tasks are organising the CVs of their candidates, answering the phone and doing researches for my working colleagues. The atmosphere in the office is very nice, because having chats with my colleagues during work is common. At first the working times were a bit strange to me, because on some days I start at 11 am and have lunch at 3 pm, but sleeping in also has its benefits.
Apart from working there is also enough time to discover London and I was surprised how many faces the city has. It is impossible to get bored here, because there are so many things to see and therefore, I am very grateful to be able to spend two whole weeks here.

Michael Großauer @ Influential English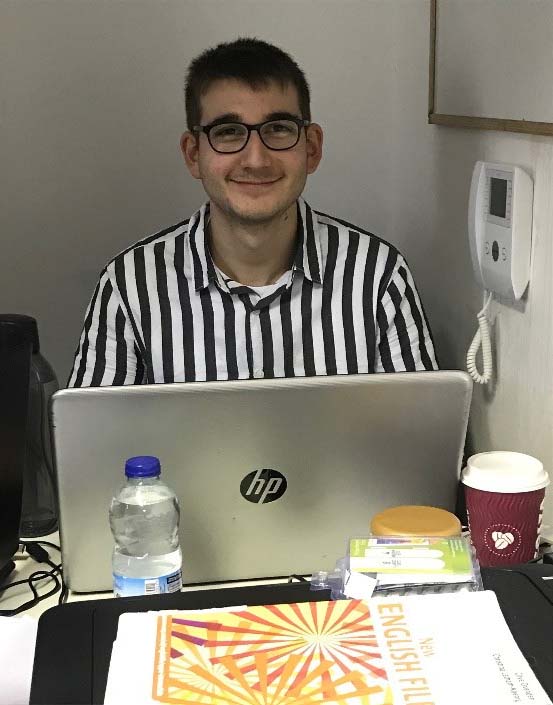 At the moment I'm completing an internship for Influential English, which is an English language school in Marylebone, West End of London. This school provides general to IELTS courses as well as online courses. As an intern in an English language school, I mainly update their social media sites and send e-mails to students which have taken the school's online English test. I usually start at 9 a.m. and leave at 3 p.m. or 3:30 pm. In my one-hour lunch break, I often go to Regent's park and eat my lunch there.
The office is basically a small table with a laptop in the classroom where my boss is teaching next to me. That's great because I'm actually in an English course and can sometimes listen to it.
Luckily, we have some free time here, too. After work or on the weekend, we can go sight-seeing, shopping, exploring, etc. London has so many different things to offer which is great because you can always find new spots.
All in all, this experience is really great to explore the city and also to improve your English skills.