Kennenlerntag der 1DK
Obwohl das Herbstwetter sich nicht von seiner besten Seite gezeigt hatte, verbrachte die 1DK einen humorvollen und, sowohl wettermäßig, als auch programmlich, abwechslungsreichen Kennenlerntag (3.10.2018) in Spital am Phyrn.

Nach der kurzen, aber informationsreichen Einweihung in das Programm folgte die Einteilung in zwei Gruppen nach dem Vorbild der Familien Feuerstein und Geröllheimer, um ein Feuerstein-Auto zu bauen, welches anschließend in einem kurzen Rennen zwecks einer Schatzkiste zum Einsatz kam.
Nach einer kurzen Pause ging es in den angrenzenden Wald, in dem allerlei verschiedenste Übungen fortgesetzt wurden, deren Kernaussage klar war: If you want to go fast, go alone. If you want to go far, build a team. Doch bei all dem kamen zwei wichtige Dinge gar nicht zu kurz: Das gegenseitige Kennenlernen und vor allem der Spaß, der durch lautes Gelächter gekennzeichnet wurde.
Valentina Seric 1DK
Kennenlerntag der 1AK
Bei prächtigem Herbstwetter fand am Freitag (28. 9. 2018) der Kennenlerntag der 1 AK in Kirchschlag statt. Die Schüler und Schülerinnen bewiesen nicht nur Geschicklichkeit, sondern auch Teamfähigkeit und Durchhaltevermögen.
Gleich in den frühen Morgenstunden zeigten sie bei der Wanderung von der Glasau über Davidschlag nach Kirchschlag sportlichen Einsatz. Danach standen unter anderem fast schon akrobatische Übungen auf der Slackline am Programm. Doch am schwierigsten war es sicher einem Mitschüler mit verbundenen Augen durch den Hindernisparcour zu folgen. Alle haben wirklich viel Einsatz und Humor gezeigt und sich das anschließende Burger-Essen redlich verdient.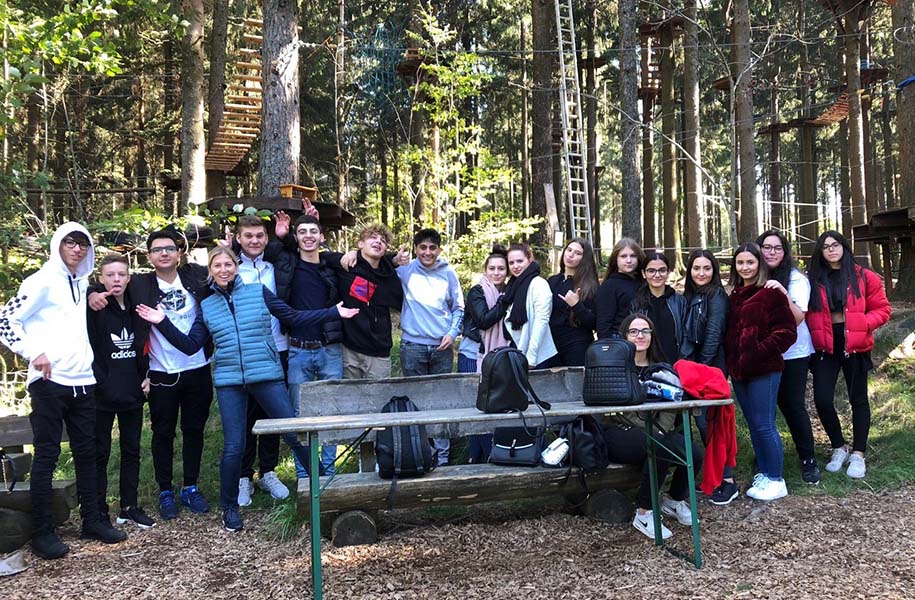 Jugend und Beruf
Auch heuer findet wieder die größte Messe Österreichs für Bildung und Beruf vom 10. - 13. Oktober in Wels statt. Die BHAK Linz-Auhof ist wieder auf dem Stand der Handelsakademien Oberösterreichs vertreten.
[ jugend und beruf ]
Final News from London
Obviously, the Erasmus project is not only work. There is also time for sightseeing, shopping and socializing, both after work and on the weekend.
(c) BHAK Linz-Auhof
IT WAS GREAT! Thank you very much...
Pius Ditachmair @ SRi Executive
The telephone is ringing. "Hey there, Pius speaking!"
Fortunately, I only have to answer internal calls and don't have to test my English skills with important clients of SRi Executive, which is the company I am working at for two weeks.

SRi is a globally acting sports recruitment office and its headquarters is located right in the city centre of London next to Victoria Station and near Buckingham Palace. SRi is searching for managers on junior and senior level for their customers who are active in sports. Among their clients are famous companies such as Chelsea FC, FC Barcelona, Adidas, the UFC, the WWE, the NBA and Red Bull, to name just a few of them. That really impressed me!

SRi is a very young, dynamic and cool company, so it's no surprise I am feeling in good hands here. My tasks cover a wide range of things, such as helping my supervisor with general administration work, as well as lighten the marketing department's workload, by creating social media posts, presentations and the weekly newsletter. I even had the opportunity to learn how to build a microsite on their website which - like the other tasks I mentioned- has the purpose of connecting potential candidates to their customers even faster.

Luckily, we also have some free time here. This allowed me to explore some beautiful places and getting a feel for London. When going out on the weekend to have fun in the pubs of Camden Town you will also meet many friendly people to chat with. I am very thankful to be able to gain these experiences and glad that people at our school are making this possible.
Pius Ditachmair, 5AK